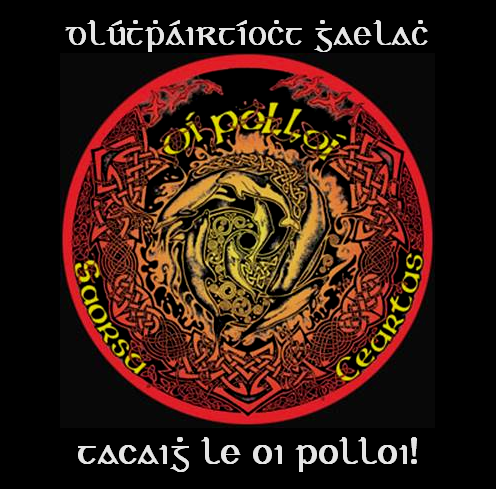 There is an influential theory held by an extremist minority on the Far Left of European politics which opposes a plurality of languages and cultures in Europe because it impedes (as they would claim) the development of a common group identity amongst the working classes on the continent, an identity that that would transcend historic national boundaries and borders. In this view anything that smacks of "ethnicity", however benign or open, is a barrier to the establishment of a unified and cosmopolitan proletariat. In times past the German language was seen as the natural mechanism by which this could be achieved, the logical outgrowth of the nation's industrial dominance and growing left-wing radicalism in the 19th century. After WWI and the establishment of the USSR the Russian language came to dominate, albeit with a degree of chauvinism perhaps not so readily apparent in its Teutonic predecessor. Now the English language is regarded as the new lexicon of the desired socialist utopia (though ironically anglophone supremacism finds just as welcome a home amongst ideologues on the Far Right in Britain, the United States and elsewhere).
One bizarre aspect of this dogmatic myopia in the heart of Mittleeuropa is the so-called Antideutsch or anti-German movement, a myriad outgrowth of the labyrinthine Marxist-Leninist politics of Germany and Austria. It shares the tenets of some on the Far Left in its suspicion of minority languages and cultures, particularly those that are believed to run counter to majority languages and their homogenising role in world society. This perhaps explains the decision by the organisers of a politically-orientated music festival in eastern Germany to ban the attendance of Oi Polloi, a well-known anarchist-punk group from Scotland that produces songs in the Scottish Gaelic and English languages. It was the former tongue that apparently spurred the decision to prevent their performance. Now we have an update from Oi Polloi on the controversy:
""Banned for singing in Gaelic" UPDATE: Today we heard that the German "Kulturzentrum" that "banned" our March 1st concert there because we sing in Gaelic is standing by its refusal to let us play but still without a public explanation for this frankly sickening discrimination against minority language speakers. As an internationalist band who campaign in support of diversity, multiculturalism and the linguistic human rights of minority language speakers, we are determined not to let such bigotry and discrimination go unchallenged. As such we repeat our call for a boycott of the so-called "Kulturzentrum" Horte in Strausberg and would encourage others who disagree with the banning of artists on cultural/linguistic grounds to contact the venue via the e-mail address on the link below to let them know your views. There can be no place for racism or discrimination in the alternative/punk scene and we and other speakers of threatened minority indigenous languages will NOT be silenced.

We also hope to have good news very soon about an alternative concert for March 1st in a venue where speakers of all languages are welcome in an atmosphere free of prejudice or bigotry. GEGEN ALLE DISKRIMINIERUNG! "KULTURZENTRUM" HORTE BOYKOTTIEREN!"
Incredibly such prejudices can also be found amongst Far Left activists here in Ireland some of whom regard the Irish language, the indigenous language of this island nation, as an impediment to the development of a "pan-European class consciousness". Indeed in the past I have heard a member of the Socialist Party argue vociferously that Irish-speakers through their "wilful rejection" of the English language are "reactionaries" and "tribalists". Similar arcane views are to be found amongst some in the SWP-PBP grouping, as reflected in the complete indifference of elected TD Richard Boyd Barrett to Irish language rights when quizzed on RTÉ some years ago. Even in Scotland that migratory demagogue of the wayward left, George Galloway, has taken in recent times to attacking Scottish-speakers with the charge of "Obscurantism".
However, as I pointed out above, such poisonous views are just as virulent on Europe's Far Right and that is reflected in this story from the Irish Independent newspaper:
"A senior member of the Orange Order who claimed the Irish language was used by republicans for political purposes has been criticised.

An Irish language development officer in east Belfast said many people were upset by the remarks of George Chittick, the order's Belfast County Grand Master.

Linda Ervine said: "I know a lot of people who have been angered and offended."

Mr Chittick told a loyalist rally in north Belfast yesterday: "A word of warning to Protestants who go to learn Irish… it's part of the republican agenda."

He later said his remarks were aimed at those seeking funding for Irish language projects rather than financial aid for projects which would generate jobs.

Ms Ervine, a development officer at an Irish language centre in east Belfast and who is married to Brian Ervine, a former leader of the Progressive Unionist Party, said she was surprised by what Mr Chittick said."
Ironically as a member of a fundamentalist Protestant and British nationalist organisation that promotes anti-Catholicism in the north-east of Ireland George Chittick might find some common ground with religiously-minded folk elsewhere in the country, albeit from a Roman Catholic background. Some lines from an article in the local Limerick Leader:
"Now if I may be allowed to make an even more irreligious proposal to that propounded by the Minister, let me suggest that if primary schoolteachers find that they haven't enough hours in the day for extra classes in numeracy and literacy, maybe they should consider taking a few minutes from the four hours a week spent teaching the Irish language, which does little for our literacy or numeracy problems, and, as far as I'm concerned, nothing at all to enhance our chances of getting into Heaven. You won't find Ruairi Quinn making a suggestion like that for fear he'd really be burned at the stake of nationalistic fervour.

On the other hand, if the Department of Education really wants to improve the literacy and literary skills of primary schoolchildren, I can't think of a better way of doing it than by encouraging them to read the Bible."
Even those who claim to be the greatest advocates of equality and pluralism in Western society cannot but help reveal themselves to be Anglophone illiberals in faux liberal dress once the issue of Ireland's indigenous language is raised. For how else would you describe the views expressed in the otherwise oh-so correct publication "Other People's Diasporas: Negotiating Race in Contemporary Irish and Irish-American Culture" as highlighted in it's Irish Times review:
"…Moynihan questions in another chapter why Des Bishop's embrace of the Irish language does not highlight the "historical baggage – of nationalism and separatism some would say borders on xenophobia – it brings with it", but there is no reason why Irish speakers should be any more xenophobic than speakers of other languages."
Unless of course the observer is a partisan for English. For only in Ireland (or Scotland and Wales) could a colonised people attempting to undue centuries of linguistic and cultural damage to their identity be presented as xenophobes for not wishing to speak the language of their former colonial masters. Obviously the free marketeer and neo-liberal view of multiculturalism only extends to the "right kinds" of culture. In that the New Left and the New Right find a common voice.
[With thanks to An Lorcánach, Daithí Mac Lochlainn, Club Leabhar NYC, Méabh and others]