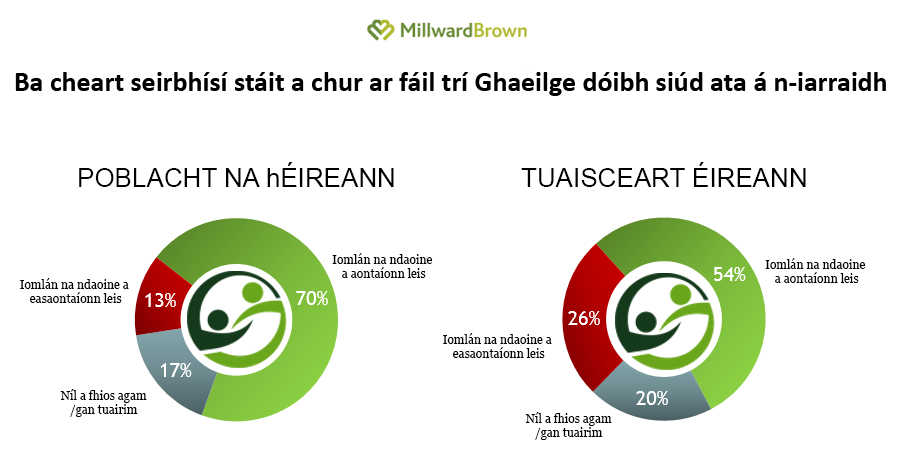 A new all-Ireland poll has found that majorities both nationally and regionally support the provision of public services in the Irish language. From the Irish Examiner:
"A survey of over 1,000 adults over the age of 15 in the Republic and over 1,000 adults over 16 in the north conducted on behalf of Conradh na Gaeilge by Millward Brown has revealed that a majority of citizens, in both jurisdictions, believe that services provided by the state should the available through Irish for those who choose to use them.

In the south, 70% of the population believe services in Irish should be provided with only 13% opposed, while in the north 54% are in favour of services in Irish with only 26% opposed.

Millward Brown also looked at people's confidence in understanding Irish (8% in the North compared to 35% in the south) and speaking Irish (5% in the north compared to 26% in the south). 44% percent of those surveyed in the south would like to have the opportunity to learn or to learn more Irish, while almost one third of the population in the north are interested in doing so."
Tuairisc examines the survey in detail, including the high levels of support for bilingual services amongst 15-17 year olds (80% in favour). Opposition or indifference to language equality on a national level was found to be strongest in the over 45s and in the Dublin region, while in the north-east a majority of "Protestants" were also sceptical.