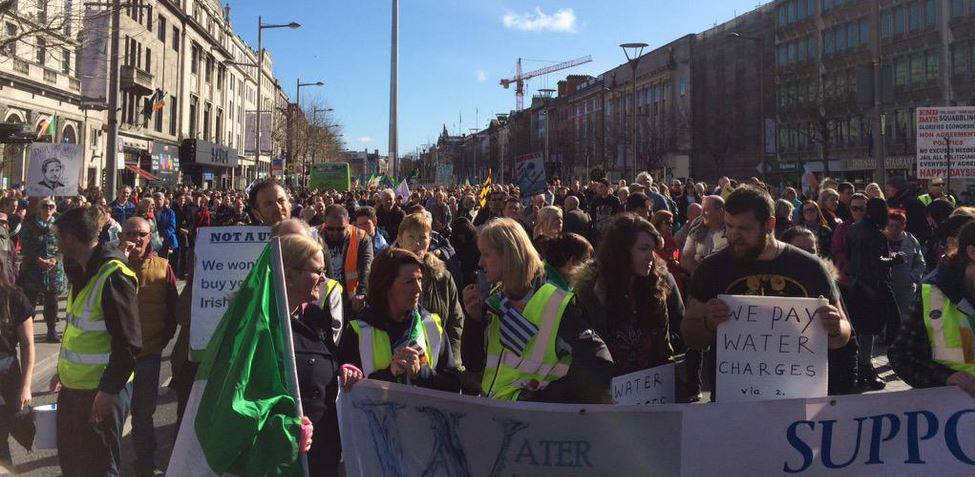 In light of recent improved polling members and supporters of the governing Fine Gael and Labour Party coalition were predicting a poor turn-out for yesterday's mass demonstration in the capital against the imposition of so-called water charges, while the right-wing press insinuated that the general public was weary of protests and the march would be a flop. However in defiance of their detractors up to 80,ooo people took to the streets of Dublin to rally once more against the failed politics of austerity. From the "Irish" Mirror:
"The capital came to a standstill today as water protesters packed the city to voice their anger against the hated charges.

An estimated 80,000 pounded the streets against the tax in a demonstration which brought together people from all over the country.

The thousands thronged O'Connell Street as a rally took place with many speakers calling on the entire nation not to give up and continue fighting for the abolition of the charges.

The last time this number of people took to the streets was back in December when up to 100,000 descended on the capital.

Protesters poured into Merrion Square spilling on Kildare Street, Nassau Street and O'Connell Street blocking all traffic for the massive demonstration."
Is the message getting through to the Fine Oibre coalition yet? The protests will end when austerity ends. Until then no one is going away. No matter how much the denizens and defenders of the Golden Circle may wish it.