Fearann claímh or "sword land" is a Medieval Irish term to describe a territory taken or held through violence. Perhaps unsurprisingly it was also used to identify a region where violent interactions had become the norm. In a 16th century panegyric by the famous blind poet, Tadhg Dall Ó hUigínn, the Norman-British were said to have made a fearann claímh críoch Bhanbha or "sword land of the territory of Banbha" (Banbha is a kenning for Ireland, named after one of the three Tuatha Dé Danann women encountered by the Clann Mhíle, the Irish, when they landed upon the shores of the island). The phrase is still encountered in modern Irish as a synonym for a conquered or occupied country.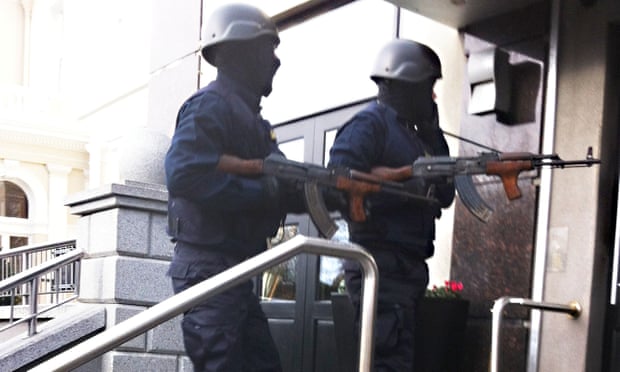 Judging by yesterday's news it seems that the nation's warring druglords have made a fearann gunna or "gun land" of modern Ireland. When four men armed with automatic assault rifles, two dressed in paramilitary or SWAT-style uniforms, can stroll into a major hotel in the capital and open fire on individuals attending a sports promotion, with several print and radio journalists in attendance, and simply disappear, claims that we live in a peaceful, civilized country ring more than a little untrue. From The Journal:
"GARDAÍ ARE APPEALING for witnesses to a shooting, where a man was killed and two others injured at a boxing weigh-in at a Dublin hotel, to come forward.

There were at least four attackers. Two were wearing SWAT-style police uniforms, including metal helmets, and were armed with assault weapons.

Three men, all in their 20s or 30s, were injured at the scene.

One of these men was subsequently pronounced dead. Sources have confirmed that he is David Byrne, who was a believed associate of the Kinahan crime gang.

A BBC Foyle journalist who was at the weigh-in, Kevin McAnena, told RTÉ Six One News that he was just after exiting the event and was still in the hotel when there was panic and "pushing and shoving".

He thought at first that it was a fist fight, but then heard gunshots.

"Two men were there holding AK47 rifles, dressed as gardaí," he said. He was in the reception area when he saw them shoot a man who was standing about six feet in front of him. McAnena then jumped behind the reception desk.

The gunman "leaned over the desk and pointed the gun" at McAnena. McAnena, who had been shouting "don't shoot, don't shoot", said the man said something to him – which he can't remember – and then left."
Thirty years ago an outrage like this would have dominated the press, radio and television for weeks. Speeches would have been made in Dáil Éireann, newspaper editorials would have demanded action, communities would have come onto the streets. Now, on an island nation where a junior government minister can revel in the nickname of "AK-47", we have become so inured to the activities of our homegrown narco-terrorists that we hardly batter an eyelid anymore. Instead the online commentariat is full of jokes and wry comments, while leading gangsters and their associates are referred to in the familiar terms that people also use for well-known footballers and their teams. The whole thing has become a bloody criminal sport, one where we are not just the spectators but the players and referees too. And we are loosing.